11.07
2017 Discovery
Do you know the Jura mountains ? For a relaxing weekend or a sporty trip, let yourself be seduced by the numerous charms of this area. Close to Switzerland, the Jura is a beautiful mix of lakes and mountains, a fresh stop during your holiday. 8 views to tickle your tastebuds!
Do you need to reconnect ? To slow down ? The Jura is the place for contemplation and letting go with its peaceful panoramas. Have a breath of fresh air atop of Crêt de Neige, swim in Saint-Point lake, be amazed by the Joux Castel architecture or walk along the trails of Metabief ski resort. Jura Mountains, a fresh stop in a hot summer.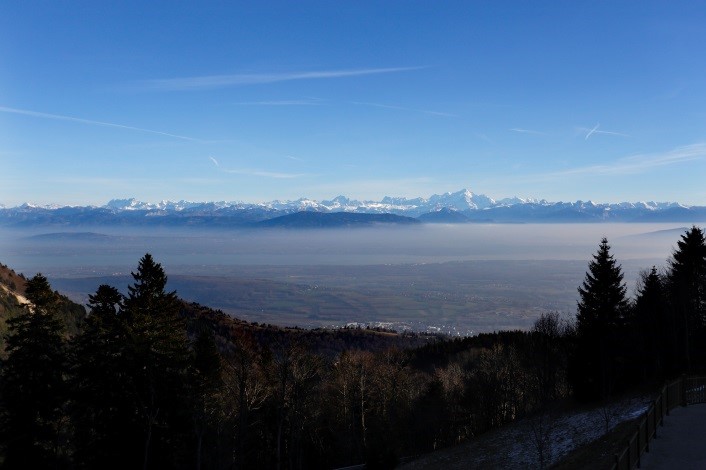 1. Panoramic view on Mont Blanc et Léman lake
For a breathtaking view, enjoy a lunch on La Mainaz**** patio.
2. Crêt de la Neige summit
At an altitude of 1720m, Crêt de la Neige is the highest summit of Jura Mountains.
Access : From Lélex village on foot or with the gondola. You can also start from le Col de la Faucille in the Pays de Gex area. You can walk on the trail all year long, with walking boots or with snowshoes in winter. The slopes are smooth enough to enjoy nordic walking.
3. Saint-Point lake
Saint-Point is the 3rd biggest natural lake in France.
Access : From Malbuisson les Lacs village, follow the trail along the lake. 23 kilometers marked and secured, accessible by bike.
4. Tufs waterfalls
This is a fresh and amazing panorama ! The Tufs waterfalls in the Dar catchment are easy to reach on foot. Perfect for family hikes !
Access : The waterfall is located at la Reculée des Planches, six kilometers away from Arbois.
5. Joux Castel panorama from Malher fort
The architecture of this castle relates 1000 years of history. It is now a classified monument.
Access : 5 kilometers from Pontarlier, accessible via a marked trail from Fer à Cheval belvedere.
6. 4 lakes panorama viewpoints
From its 993m summit, Le "Pic de l'Aigle » overlooks the lakes of Narlay, Ilay, Petit and Grand Maclu. You will enjoy the view above the lakes and on the Jura mountains.
Access : 2 kilometers on foot from La Chaux-du-Dombief village
7. La reculée de Baume-les-Messieurs
La reculée's waterfalls, classified village and its imperial abbey make this area unusual, magical.
Access : From Baume-les-Messieurs village, various walking trails are possible to visit the area
8. Mont d'Or summit : 300 summits in front of you
Mont d'Or, located in Metabief ski resorts offers many trails to enjoy the view on foot or by bike in summer, or snowshoes and skis in winter.
Photo credits : Fotolia (Pixel Pixel), La Mainaz, CRT BFC - Didier Lacroix, CRT BFC - Fabrice Parriaux, Maxime Coquard & Elisa Detrez @Bestjobers, CRT BFC