04.06
2022 Mountain activities
Whether you enjoy hiking for hours or rather strolling quietly, there are many trails that lead to majestic viewpoints and heavenly spots, regardless of your level of walking. For families and novices in mountain hiking, access by gondola and / or chairlift can also be a good compromise to get to the top.
Here are some ideas to get you hiking this summer.
Around Le Morond via the Jura mountain ridges in Métabief
This circuit is a real favourite with hikers because of the quality of landscape it offers. Accessible from Métabief via the Morond chair lift, or from the Mont d'Or car park, as you make your way along the Mont d'Or ridges, enjoy a series of viewing points. On a clear day, you'll be able to see around 300 summits from the Alpine mountain range including Mont Blanc, the Aiguille du Midi, the Jungfrau... A real feast for your eyes. What's more, with the HD+ app you can learn about the trail by being set challenges that teach you about the surrounding natural environment.
Discover the Hohneck summit in La Bresse (Hautes-Vosges)
Uninterrupted views over the Vosges Massif and Alsace await hikers at the summit (on very clear days, even the Alps are sometimes visible). Take the Névés trail along the Vosges mountain ridge path (approximate duration: 3 hours, fairly easy walk, no major vertical climb).
Climb to Puy de Sancy via the Mont-Dore cable car in Auvergne
It's possible to gaze over 1/7th of mainland France from the highest summit in the Massif Central: Le Puy de Sancy, at an altitude of 1,886 metres! It's where La Dore and La Dogne meet to form the Dordogne which then begins its long journey all the way to Gironde. Enjoy magnificent panoramic views over the glacial valleys and jagged crests, as well as over the volcanic massifs of Cantal, La Chaîne des Puys, Le Mézenc and Le Forez. Despite having the appearance of a mountain, Le Puy de Sancy is actually a volcano, or more accurately a stratovolcano - at the summit you'll find the top of the crater.
An unusual volcano in Super-Besse in the Massif du Sancy
Between the medieval city of Besse and the resort of Super-Besse sits an unusual volcano: Lake Pavin. This maar, or volcanic crater lake is as fascinating as it is frightening! Its legends, scientific characteristics and geological attributes make it a unique location in France and a rarity throughout the world!
Take an unmissable journey to discover one of Auvergne's most beautiful lakes and one of the most legendary sites in the Massif du Sancy. The daytime hike is a picturesque walk around the lake that takes around 1 hour to complete.
La Croix de Chamrousse in Isère
At an altitude of 2,250 metres, La Croix de Chamrousse is accessible by gondola lift. It boasts 360° panoramic views over the surrounding mountain ranges: Vercors, Chartreuse and Oisans, as well as plunging into the Grenoble urban area below. Enjoy a guaranteed change of scenery.
Le Fornet in Val d'Isère (Savoie Mont Blanc)
It's impossible to come to Val d'Isère without visiting the traditional hamlet of Le Fornet, located 2 kilometres from the centre on the legendary Col de l'Iseran (2,770 metres) and boasting traditional stone and wood mountain chalets. It's an opportunity to walk through a hamlet brimming over with history, admiring the Sainte Marie Madeleine du Fornet chapel built near the larch forest between 1600 and 1630. A range of hikes are available starting out from Le Fornet.
Le Mont Corbier in Les Sybelles (Savoie Mont Blanc) The Mont Corbier summit is easily accessible using the Sybelles Express chair lift (a 20-minute walk). An information board at the summit labels the magnificent 360° views stretching out over Les Aiguilles d'Arves.
Le Danay in La Clusaz (Savoie Mont Blanc)
Le Danay offers a field and forest walk with beautiful views over the Aravis mountain chain. Once at the summit, you'll see a metal cross from which you can gaze over the Grand Bornand ski area and La Clusaz.
The Tougnète summit in Saint Martin de Belleville (Savoie Mont Blanc)
Thanks to the ski lifts staying open in summer, it only takes twenty minutes to reach the Tougnète summit in Saint Martin. From up there, enjoy uninterrupted views over Les 3 Vallées' major summits: La Saulire, Le Col de la Loze, La Pointe de la Masse, Le Cheval Noir and La Cime Caron.
Head to Gorzdérés in Champagny en Vanoise (Savoie Mont Blanc)
Discover the Champagny-le-Haut valley as you walk along this annotated nature trail between the "Le Bois" and "Friburge" hamlets with the help of 10 information panels. The itinerary is categorised as a "comfortable walk". The valley centre is a gateway to the Vanoise National Park. It was listed in 1992 because of its heritage and characteristic landscape. Overlooked by the Grand Bec summit at 3,399 metres, crossed by the waters of the Doron and inhabited by 'Gorzdérés' locals, this high mountain valley is unique and boasts vegetation, wildlife and a traditional pastoral way of life.
A ridge trail in Les Menuires (Savoie Mont Blanc)
The ridge trail is a simple route that's open to everyone and offers unmissable views over the entire Belleville Valley and its surrounding summits: La Pointe de la Masse, La Cime Caron, etc. 15 kilometres long with a 200-metre vertical climb, this little single trail takes 5 hours to complete the full circular route. Anyone who doesn't want to make the return journey can walk down or take the gondola lift from Tougnète summit in St Martin de Belleville, then take a free shuttlebus back up to Les Menuires.
Le Mont de Vores in Notre Dame de Bellecombe (Savoie Mont Blanc)
A beautiful hike that takes you up to a 2,067 metre summit. Discover panoramic views and Alpine pastures. Don't miss: Le Bouza and La Limace chalets, former farms that are examples of totally unspoilt architecture.
One foot in France and one foot in Switzerland from Châtel (Savoie Mont Blanc)
Discover a ridge circuit that takes you through Le Morclan, one of the most beautiful summits in the region: the view extends to 360° and lets you see the faraway Swiss mountain summits (Eiger, Monch and Jungfrau), as well as closer peaks such as Les Dents du Midi and Les Dents Blanches. In the distance, you'll be able to spot Mont Blanc. You can continue the hike by taking the ridge trail towards the Mouët chalet for a break and a snack made using local produce before coming back down. Walking the entire loop takes 5 hours and 25 minutes.
​
Across Valmorel's Alpine pastures (Savoie Mont Blanc)
From the resort to the Crève-Tête summit (2,342 metres) let your mind wander through fields of anemones and globeflowers, with Mont Blanc as your backdrop. At the summit, admire 360° panoramic views over the Vanoise National Park and Lauzière mountain range. The full circular route takes between 4 and 5 hours.
Multiple lakes on a single route in Val Thorens (Savoie Mont Blanc)
Val Thorens' lake circuit lets you enjoy beautiful panoramic views of the resort with hardly any vertical climb. Be refreshed along the way by Grenouilles Lake, Tête Ronde Lake and Thorens Lake.
A forest trail in Valmeinier (Savoie Mont Blanc)
Discover a forest with pines, larches, streams… The Prec / Château forest trail is accessible on foot, by mountain bike or by car, offering access to Bissorte Lake which overlooks the valley and provides 180° views over Le Fort du Télégraphe, Le Perron des Encombres...
Head for the Saut mountain refuge via Ramées woods in Méribel (Savoie Mont Blanc)
This circular itinerary is an opportunity to appreciate a beautiful range of landscapes, with plantlife (alders, spruce, Alpine pine), as well as wildlife (marmots, eagles, chamois goats and ibex). After setting off from the forest in the Bois des Ramées, this itinerary requires a bit of a climb to reach the La Plagne plateau at an altitude of 2,000 metres at the foot of the Aiguille du Fruit. This is where the Vanoise National Park and the high mountain ski area begins: a number of other hikes extend before you, including those towards Le Col de Chanrouge, Le Col Rouge, Le Col du Soufre and Le Glacier de Gebroulaz. To get back to Méribel-Mottaret, follow the track via Lake Tuéda. You may be greeted by the loud whistling of a group of marmots inviting you to come back again soon.
A wild itinerary to Valfréjus (Savoie Mont Blanc)
This wild itinerary snakes between lakes and scree, taking you up to a superb mountain summit where the mineral landscape turns lunar, with incredible panoramic views over the summits: Grandes Jorasses, Cervin, Grande Casse, Mont Viso. You can opt to complete the itinerary over the course of two days by spending a night in the Thabor mountain refuge. Mont Thabor's landscape has been listed as a 'Natura 2000' site, and also numbers among the national 'GR' long-distance hiking routes (GR5 and GR55).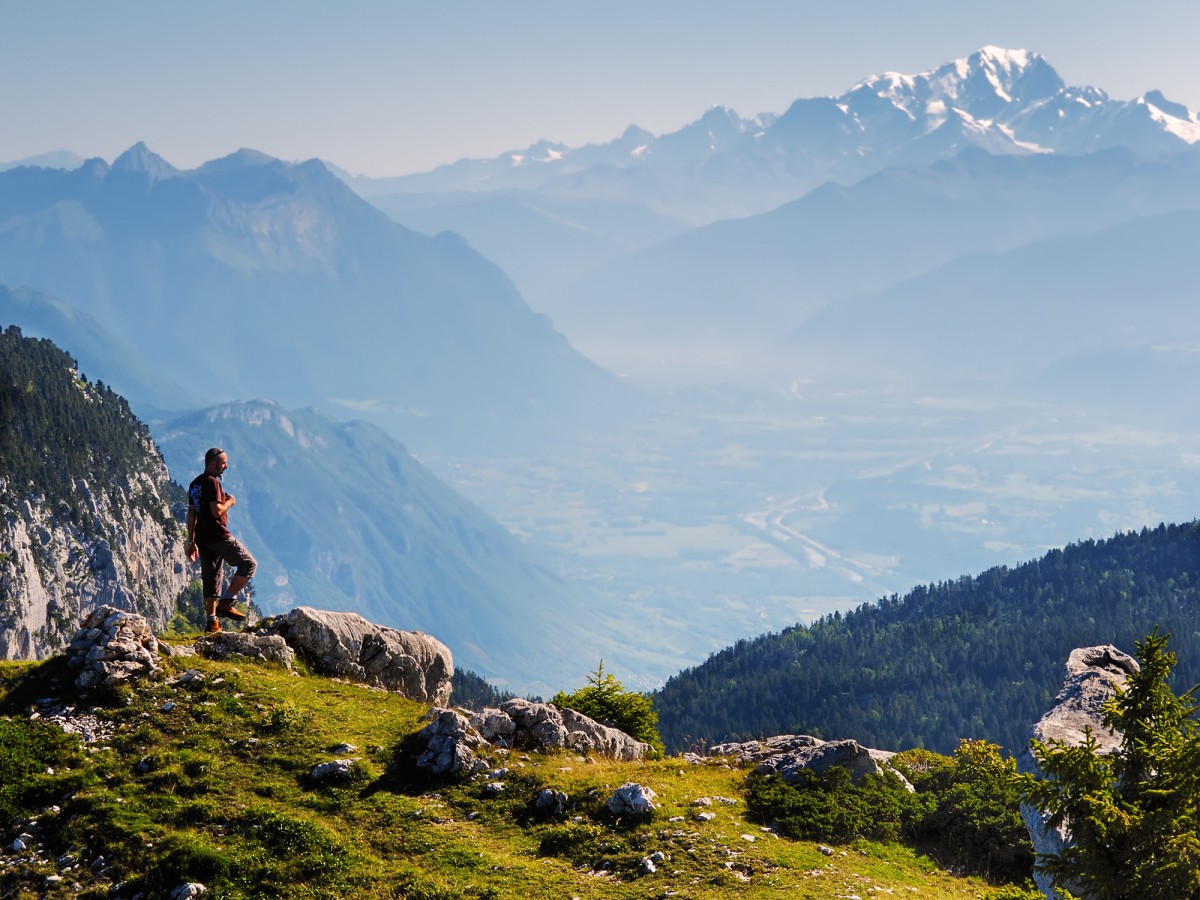 Photos : Monts du Cantal / Julien Boyer-Malzac - Monts du Sancy / Ponchy - Mer de glace / Philippe Devanne (Fotolia) - Lac de Chaudanne / Photlook (Fotolia) - Telecabine Sancy / atmospheric (Fotolia) - Granier vue Mont-Blanc / Ursule (Fotolia)