15.09
2016 Mountain activities
Though it's always existed, French resorts are now offering improved tobogganing opportunities year on year. As well as specially equipped children's areas on the snow front, the last few winters have seen the arrival of toboggan runs to rival Alpine ski descents. And they're aimed just as much at parents as they are at children! Here's our selection.
Le Tobbogan in Val Thorens: the longest toboggan run in France!
6 kilometres long with a 700-metre vertical drop, Le Tobbogan in Val Thorens is the longest toboggan run in France. It starts at the foot of the Péclet glacier, at an altitude of 3,000 metres. After an 8-minute Funitel ascent, a 45-minute descent (on average) awaits you on a run that is roughly 5 metres wide, augmented by banked turns. The run is open during the day (from 10am to 3pm or 3.30pm), as well as in the evening, Wednesdays, Thursdays and Fridays (5pm to 6pm or 5.30pm to 6.30pm, free mulled wine on arrival). Toboggan with metal brakes and helmets provided. 14€ per descent (21€ without a ski pass) or 22€/33€ for two descents, free for children between the ages of 5 and 10 sharing a toboggan with an adult.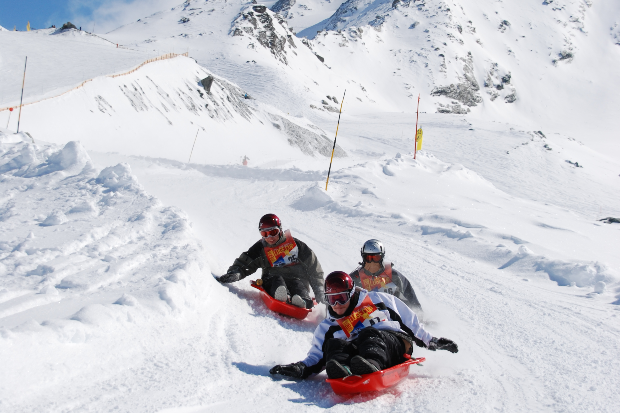 The Fantasy luge at Super-Besse
If you've always dreamed of hurtling down an Alpine ski slope in a toboggan, now you can with The Fantasy Luge in Super-Besse! Open at the end of the day, after the slopes have closed, the 3-kilometre descent covers a 500-metre vertical drop on a red run, with beautiful panoramic views over Les Puys mountain range. Open to adults and children over the age of 6 (6-13 year olds must share a toboggan with an adult), the toboggan has metal brakes and helmets must be worn. You can also descend the run on a yooner. Available on Mondays and Thursdays during the school holidays, or Tuesdays and Saturdays outside school holidays. Meet at 4.15pm (or 4.45pm depending on the time of year) in front of La Perdrix cable car departure station. 4€ per cable car journey + supervised descent (9€ including toboggan or yooner + helmet hire).
The Yooner in Praz-sur-Arly
This Haute-Savoie resort is at the cutting edge when it comes to Yooner equipment; a modern variation on the traditional sledge, it is like a little stool attached to a mini-ski, and is easier to steer than a sledge thanks to the ski's edges. Two Praz-sur-Arly ski area chair lifts (Le Crêt du Midi and La Rosière) accept yooners, providing access to nine runs (6 blue, 2 red and 1 green) and over 470 metres of vertical drop. Being so low on the ground, Yooners provide amazing thrills while still being very accessible, and they're a great way for non-skiers to join skiers on the slopes. Expect to pay between 8 and 12€ to hire a yooner for the day.
Grand Tourmalet toboggan descent
Le Grand Tourmalet ski area (Barèges-la Mongie) gives you the chance to toboggan down the Col du Tourmalet in winter, on Thursdays and Saturdays at 5.30pm. After taking Le Béarnais chair lift, a 3-kilometre descent with a 300-metre altitude drop awaits you. Zoom down hairpin turns on the most famous mountain pass in the Pyrenees, all the way to La Mongie. Accessible to adults and children from the age of 12 (children must be accompanied by an adult). 11€ per person (toboggan and helmets provided), book at the Mongie Village information point.
Snake Gliss in Valmeinier
Sit down, put your feet firmly in place and you're off for an incredible crazy half-hour with friends! Hurtle down the slope in crocodile file. The 'snake' is driven by a guide who lets you carry out a few "S" turns between 1800 and 1500 metres, thrills and great fun guaranteed! Further information is available from www.snake-gliss.com
Wiidoogliss in La Bresse
A stone's throw from La Bresse ski resort, in an Arctic-style environment, the Wiidoogliss snow leisure park opened at Christmas 2013 and has spared no expense when it comes to tobogganing and related activities. Two toboggan runs have been built on the site, one 120 metres long reserved for snowtubing, and a second 140 long run devoted to classic tobogganing and every other kind of snow device. A mini-tubing run has also been built for younger children. Park access is unlimited (skiing, tubing, tobogganing, wiidoo area, + snowshoeing), letting visitors combine different activities: 2.90€ for the under 4s, 6€ for the under 13s, and 7.50€ for adults for a half-day (discount for families of 5 or more) + equipment hire.
Photos :
©J.Clatot/OT Val Thorens
©Martin Léger
©OT Praz-sur-arly
©N'PY
©P.Lebeau OT Val Thorens
©C.Cattin/OT Val Thorens