22.01
2018 Mountain activities
When we talk about Nordic skiing, we immediately think of cross-country skiing (alternative or skating) and snowshoeing. But there are other options – sign-posted trails take you out into the natural world, where you can enjoy total freedom in complete safety. We take a look at 3 different Nordic pursuits.
Skiing in the morning, swimming in the afternoon and then cookery lessons or yoga sessions – a winter holiday in the mountains has so much more fun and excitement to offer these days. If you want to do a bit of Nordic skiing, there's no need to endure hours of cross-country skiing to enjoy the peace and tranquillity of the snowy wooded trails. There are plenty more fun ways of experiencing it – ideal for families, too. This way for a taste of Nordic skiing – natural, unusual and refreshingly different!
Fatbiking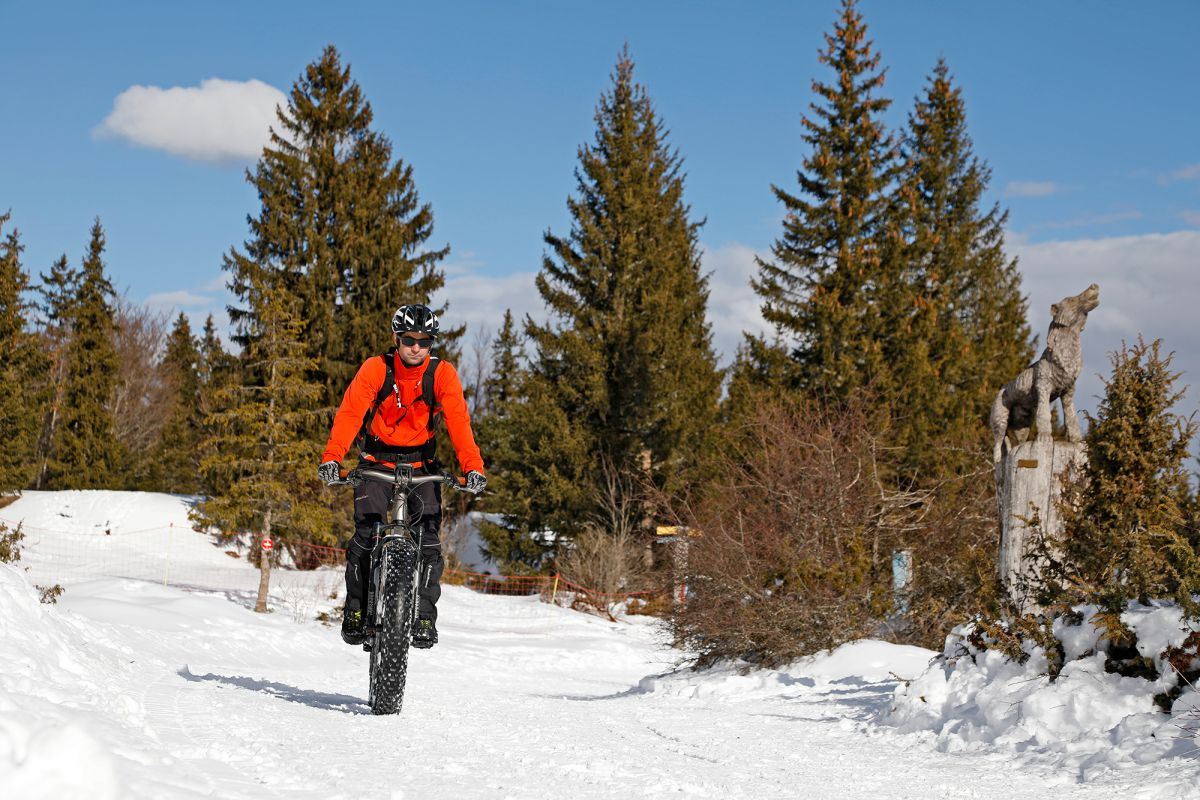 Cycling in the snowy mountains – are you mad? No, we're not - it's only the next logical step in current cycling trends! According to Julien Rebuffet, Director of the Moniteur Cycliste de France Association, "There's a real boom in cycling as an activity and we are amazed by the constant flow of new trends in the sport. In town, on mountain cols and steep paths, cycle touring etc. Cycling comes in every possible form". And it's really taking off at the moment.
With big fat tyres full of air for better grip and stability, you take the "ATB Jeep" out on packed and/or groomed snow in areas designed for Nordic pursuits. So you share sign-posted trails with cross-country skiers, walkers and sometimes even dog sleds. A bit of a tricky proposition? "On the contrary, people are curious about fatbiking, so there is plenty of back and forth. You don't go very fast on snow – it's more of a relaxing hike," insists Kostia Charra, Director of the Mountain Bikers Foundation. There's a choice of trails ranging from wide, open tracks to small wooded paths, controlled descents and reasonable ascents. "It's bit like regular mountain biking but the pace is slower and the setting is magical. A relaxing natural mountain setting – it's wonderful", continues Julien.
And the icing on the cake – some fatbikes are electrically assisted. So everyone can take a turn at biking in the snow, whatever their physical condition or fitness level.
Who goes fatbiking?
Real enthusiasts: a small community of fans who go fatbiking all year round – on snow in winter and steep rocky terrain in summer
Cyclists: people who love being in the pedals and see fatbiking as a way of continuing their favourite sport in winter.
People who are curious: people who want to try a new activity when they take a break in the mountains. Fatbiking is one of many different tourist activities you can enjoy – and you don't have to be super-fit because some of the bikes are electrically assisted.
Dog-sledding
A gentle excursion, sitting comfortably on the sled for your first time or in a more energetic role, driving the dogs – everyone seems to want to go dog-sledding. It's the image more than anything else: an amazing journey through the white landscape, totally immersed in nature and enjoying a magical connection with a beautiful team of dogs. And the experience is so special and unusual: an activity you can only enjoy in the mountains in winter, guided by incredibly enthusiastic qualified mushers. If you want to try your hand at it, you need to go to the Nordic pursuits area. Teams of 3 to 15 dogs share the cross-country skiing trails – you can always tell a musher as they'll have a broad smile on their face. It's a pursuit that draws you in and takes hold of you and – thanks to the specially designed areas – you can perfect your skills at your own pace.
The Savoyard resort of Les Saisies introduced dog-sledding to its Nordic pursuits area back in 2008, for example. They reduced the level of grooming on parts of the cross-country skiing trails, making them accessible to dog teams and snowshoers. A great opportunity for holidaymakers to enjoy a Fsr North experience for a few hours – alongside downhill and/or Nordic skiing. According to the Direct of the Tourist Office, Bruno Clément, we are seeing massive turn-around in tourist consumption habits. "We know for sure that people come to Les Saisies for the dog-sledding before anything else. And they see that other activities are also available in the resort. They might even switch back to cross-country skiing one day!"
Who would enjoy dog-sledding?
Adventurers: people who want to learn how to drive a dog team, study the routes and guide the dogs will try their hand at mushing. High-energy thrills and spills guaranteed!
Dreamers: people who like watching the landscape go by as they travel the trails will prefer a taster session. Snuggled up behind the team and rocked by the gentle sound of the sled skimming over the snow.
Funcross
Fun what? Funcross, of course! The new snowsport of funcross – riding an all-terrain scooter – happens in the Nordic pursuits areas. With two wide wheels fitted with crampons, this machine can go anywhere – it's equally happy on stony trails or snow. A different kind of activity that's ideal for families – take the sign-posted Nordic trails and the electrical assistance will kick in for the gentle inclines. The Nordic area at La Pessade in the Auvergne has gone all out for this innovative activity: "In the beginning, funcross was for all-terrain descents – it was all about speed and adrenaline. Nowadays, the electrical assistance means you can go both uphill and downhill and all the family can have a go. It's a bit like skiing at a restricted speed (10 to 15km/hr max.) without any danger – and it's all sign-posted for you".
Who will enjoy funcross?
Families, children and adults who want to have a bit of fun in a different kind of mountain playground.
Anyone who's crazy about snowsports and wants to try something new