16.08
2016 Mountain activities
Want to get out of your comfort zone? In need of a thrill? The mountains are packed with opportunities to do exactly that. In the air, in the water, on the ground or under it, here's our selection of adventurous summer activities. For the young and the young at heart!
1. Bungee jumping
When it comes to accessible thrill-seeking, bungee jumping has been at the top of the pile since the 1980s. Inspired by a Vanuatu rite of passage, there are several different ways to bungee jump in the mountains. Now, you can launch yourself into the void from a bridge, crane, tower or even a ski jump in Saint-Jean-de-Sixt, with a bungee rope attached to your ankle and/or body. Show vertigo who's boss!
In Saint-Gervais-Mont-Blanc, Barèges/Grand Tourmalet, La Bresse and Alpe d'Huez
2. Skydiving
Another activity that requires a fair bit of bottle is skydiving! Usually done from an airplane, helicopter or other aircraft, you jump out into the void 4,000 metres up with a parachute on your back. The fall only lasts between 40 seconds and a minute, but that's long enough to live out Icarus' dream and enjoy an exceptional perspective on the surrounding summits. Incredible! (Individually, supervised by two instructors, or in tandem).
In Megève and Samoëns.
3. Acro-paragliding
A classic paragliding flight is a fairly tranquil experience, but the 'acro' or freestyle version will send you reeling! A number of flight schools offer beginner's paragliding sessions accompanied by an instructor, and introductory courses in free flight acrobatics. If you're not faint of heart and aren't afraid of being pitched about, rolled over, and spun around, the leading lights in the discipline are all yours!
In Les Gets, Les Orres, Grand Tourmalet, Lioran and even Annecy, host of the world acro-paragliding championships from the 26th of August to the 3rd of September.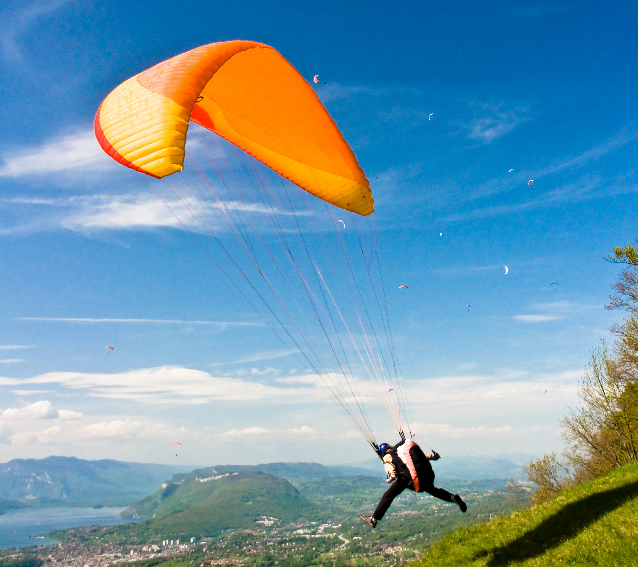 4. Rafting
Being rocked around on a rough river or choppy mountain watercourse in an unsinkable boat is a real thrill! That's the essence of this activity, which demands good team spirit and a hunger for adventure, much like the pioneers of the American West! You can even go rafting at night in the Oisans region and the Écrins National Park. Try a different route to your adrenaline rush!
In Les Arcs, Les Houches, Orcières-Merlette, Gérardmer, Peyragudes, Les Angles, Les 2 Alpes
5. Canyoning
It's difficult to get more varied than canyoning. This fun activity combines hiking, climbing, potholing and white water sports. To cross gorges, ravines and waterfalls in mountain watercourses, you have to walk, jump, glide down natural waterslides, swim in sometimes very deep basins, and even abseil down rock faces. The fact that it takes you to wild places long tucked away from human eyes makes it all the more intoxicating an experience.
In Saint-Lary, Isola 2000, Mont-Dore, Villard-de-Lans, Samoëns, Font-Romeu
6. High-diving
Equipped with a wetsuit and a life jacket, throw yourself down giant waterslides in the position of your choice - head first makes it even more thrilling - then throw some acrobatic shapes before diving into a high-altitude lake. Fun, refreshing and thrilling!
In Tignes, Val Cenis, La Norma
7. Via Ferrata
An Italian import, Via Ferrata is an unmissable summer mountain activity. It's made so many areas previously reserved for climbers accessible to hikers and can truly be called an Alpine aerial activity that provides a huge variety of thrills, particularly when passing above lakes, precipices and other high-altitude ridges.
In Arêches-Beaufort, Le Grand Bornand and Le Grand Tourmalet.
8. La tyrolienne géante
Giant zip wires provide easy thrills and an increasing number of them are popping up in mountain resorts. Over 1,500 metres in length, they let you fly above a resort or natural site, sometimes reaching speeds of more than 100 kilometres an hour! Individually or in pairs, embark on a sensational descent!
In Super Besse, Orcières-Merlette or in Châtel
9. Downhill mountain biking
As any mountain biker will tell you, the downhill stint is the most impressive part. Luckily, equipment has come on a lot in recent years, making downhill mountain biking, or DH for those in the know, much more accessible. Technical and ultra-fun thanks to the many natural and artificial obstacles along the way, it provides fantastic adrenaline rushes to riders kitted out like characters from Star Wars!
In Les 2 Alpes, Serre-Chevalier, Les Angles, Lac Blanc
10. Potholing adventure trail
If you've exhausted the possibilities of treetop adventure trails then it's time to try the subterranean version! Some clever folk had the idea of equipping caves in the Vercors and Chartreuse with zip lines, rope bridges and even abseiling as a fun, acrobatic way to discover potholing. A magical atmosphere awaits!
©Stéphane Jaillet/kahotep
©Andy Parant/Tignes Développement
©OT Les Angles
©Michel Laurent - Bol d'Air
©Parachutisme74
©Clément Buttin/OTAB