12.09
2012 Gastronomy
There is no greater pleasure after a long day of hiking than sitting down to a traditional raclette or tartiflette. Numerous cheeses which carry the Appellation d'Origine Contrôlée (AOC) or Protégée (AOP) label are produced in the French Mountains. Enjoy these delicious regional products as a snack, a main ingredient, an accompaniment, or an elegant finish to the meal.
Abondance (Haute-Savoie)
There is no greater pleasure after a long day of hiking than sitting down to a traditional raclette or tartiflette. Numerous cheeses which carry the Appellation d'Origine Contrôlée (AOC) or Protégée (AOP) label are produced in the French Mountains. Enjoy these delicious regional products as a snack, a main ingredient, an accompaniment, or an elegant finish to the meal.
Abondance (Haute-Savoie)
This cheese, made from whole, unpasturised milk from Abondance, Tarine or Montbéliarde cows, has a characteristic fondant and pronounced odour, although much milder than varieties such as Beaufort. Abondance is produced through a gentle heating process, never surpassing 50°C. It is then ripened on a spruce plank for 90 days. This cheese is best consumed between July and November.
Bleu d'Auvergne (Cantal/Puy de Dôme)
Bearing the AOC label since 1975, Bleu d'Auvergne has been produced since the mid-19th century, when an Auvergne farmer began combining curdled milk with the mould forming on rye bread and piercing it with a needle. Creamy, full-bodied and fragrant (with the aroma of licorice, gentiane, anemone or arnica), it is the perfect accompaniment to an endive and walnut salad, or an escalope de foie gras. It also marries well with beef or even pears.
Bleu du Vercors-Sassenage (Isère)
This creamy, delicate cheese, with a subtle hazelnut aroma, was originally produced in the monasteries. Beginning in 1338, the Baron of Sassenage authorised its commercialisation. Some sources say this cheese was provided to the Seigneur of Sassanage in lieu of tax payments. The marbled cheese is produced using milk from Abondance, Villardes or Montbéliarde cows of the Parc naturel régional du Vercors. It marries well with a full-bodied red wine, such as Banyuls or Barsac. It can also be enjoyed melted, in a « vercouline » (the equivalent of a raclette), quiche, as a meat sauce, or cut in cubes as an apéritif.
Etorki (Western Pyrenees)
Etorki, originally in Basque, has been produced for the past 30 years using the savoir-faire of Pyrenees shepherds, who traditionally produced cheese as a method for preserving milk. This sheep milk cheese is fabricated in Basque « cayolars » and Bearnese « cujalas », the traditional summer shepherds' shelters. Etorki is traditionally combined with black cherry preserves, in a salad with pickled peppers, or rolled in a slice of Bayonne ham sprinkled with Piment d'Espelette, all of which bring out its distinctive yet subtle flavour. It is also delicious with fruits such as figs, Golden Delicious apples, or pears.
Reblochon (Haute-Savoie)
A key ingredient of the much-loved tartiflette, Reblochon is named for the Savoyard term « re-blocher, » which, in the 16th century, signified « second milking,» a regional term for cheating or fraud. Traditionally, farmers would yield the results of the first milking to their masters (in general the abbeys) and keep the second, taken after nightfall, for themselves. Beginning in the Renaissance, tenant farmers payed their dues in kind, calculated based on the volume of milk yielded. Masters or their deputies verified the quantity of milk produced in order to determine how much cheese should result. In order to reduce the quantity of cheese yielded, it was in the farmers' interest not to milk the cows completely until after the controller had left. The small quantity of milk that remained for the second milking was creamy, high in fat and of high quality.
This cheese should be removed from the refrigerator two hours before consumption. It is best served slightly below room temperature, at around 16 °C.
Munster (Vosges)
This creamy cows' milk cheese has a distinctive odour but delicate taste. During the ripening process, the rind is washed regularly in brine. It is an excellent accompaniment to carvi (cumin) and can also be used as a base ingredient for raclette. It is produced in seven French departments, from Alsace to Lorraine to the Vosges massifs. According to legend, knowledge of its fabrication was transmitted by an Irish monk passing through the Vosges, who left a raclette made from Munster to the local inhabitants. It owes its name to the city of Munster in the Haut-Rhin.
Others say the recipe originated in the time of Charlemagne, when Christian monks populated the region and brought with them their knowledge of cheese production. In this case, it is possible that the term « Munster » is drawn from « Monastery, » given that local monks traditionally provided this cheese to the Dukes of Lorraine as a form of tax payment.
Salers (Cantal)
This unpasturised cheese was originally produced at a time when cattle herds spent the period from spring until autumn in the pastures. The production process begins immediately after milking, when the milk is still warm. No heating or refrigeration is involved in the process. It is produced between mid-April and mid-November. The milk is collected in a wooden receptacle called a gèrlo. It is therefore infused with the bacteria naturally present in the wood. This unique process is a determining factor in the exceptional taste of the resulting cheese. Each producer of Salers adds specific flavours and aromas to his products.
Tome des Bauges (Savoy)
This cheese, produced using unpasturised milk, has a bloomy grey rind which contains a small quantity of ammonia (mucor, otherwise known as « cat's hair. » It has been produced since the 17th century, when it was considered a « peasants' cheese.» The milk used in its production comes from Abondance, Tarine or Montbéliarde cows. Tome de Bauges has held the AOC label since November 2002.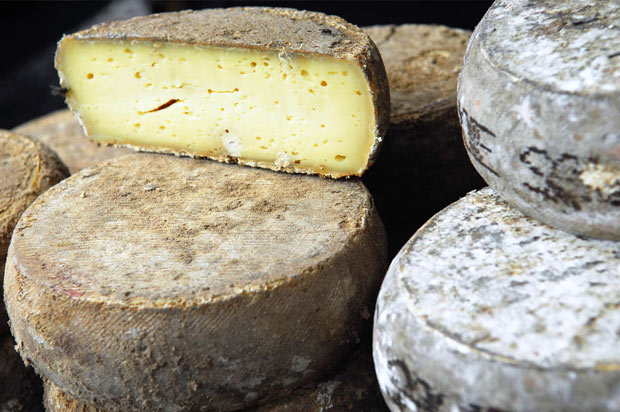 Comté (Franche-Comté)
45 000 tonnes of Comté are produced each year, more than any other French AOC cheese. With a base of unpasturised cows' milk, it is known for its impressive size – a round measures up to 65 centimetres in diameter, and weighs up to 40 kg. Approximately 450 litres of milk are required to produce a single round. This cheese has been produced since the Middle Ages, when the long winters required setting aside a large quantity of foodstuffs, an effort in which the entire community participated. In transforming their abundant supply of milk into cheese, communities could preserve dairy products throughout the winter. In addition, dry, hard cheeses allowed for easy transport and sale. The best time to enjoy Comté is between July and September, after it has ripened for 8-12 months. However, this cheese retains its excellent flavour up until December. Comté produced in the winter is drier and has a stronger flavour than that produced in the spring, due to the quality of the milk (spring milk has a higher fat content.)
Raclette (Switzerland/Savoy)
Raclette is the best known and most popular cheese of the French mountain resorts, although its true origins are Swiss, from the Canton du Valais. This unpasturised cows' milk cheese is ripened for three to six months. The best time to enjoy Raclette is between November and February. Raclette is also produced in the Savoy region, this version contains exclusively unpasturised milk provided by farmers from five communities in the Chambotte massif. It is normally melted and eaten with potatoes, charcuterie and pickles.
Laguiole (Aveyron/Cantal/Lozère)
This semi-firm unpasturised cheese owes its name to the village of Laguiole (Aveyron) and is fabricated on the Aubrac plateau. The milk used in its production comes exclusively from cows of the Aubrac and Simmental Française breeds. The cheese is the result of two pressings. The result of the first pressing is an elastic white substance with a pronounced odour of lactoserum. This product, known as « tomme » or « tome » is a key ingredient in two regional dishes: L'Aligot, a traditional Aubrac recipe, and Truffade, typical of the Central Massif. The fresh cheese is also sold under the name "graisse de Noël".
Beaufort (Savoy)
Produced exclusively at altitudes over 800 metres, with cows' milk from the Tarine breed, this cheese is named after the Beaufort valley where its production began in the Middle Ages under the name « Vachelin » (cows' milk cheese, as opposed to goats' milk cheese.) Today, it is also produced in Maurienne and Tarentaise. After production nearly ended in the 1950's, Beaufort was saved thanks to the establishment of producers' cooperatives. It is, effectively, a « cooperative » product, fabricated from the milk of several herds. An essential ingredient in Savoyard fondue, Beaufort marries well with mushrooms, particularly chanterelles. Other Savoyard products, such as the small pasta known as Crozet, and Savoyard charcuterie, can also be complimented with this cheese. For a subtle accompaniment, enjoy Beaufort with an Arbois white wine.
Mont d'Or (Jura)
This soft cows' milk cheese with a washed rind was once known as a « poor cousin » to Comté. Produced when the cows had come down from the pastures to pass the winter in the stables, during a time when lower milk production made it impossible to produce the large rounds of Comté which require a significant quantity of milk, this cheese, also known as « Vacherin, » was the answer. Only seven litres of milk is required in order to produce a kilo of Mont d'Or, versus twelve litres for a kilo of Comté. The cheese is extremely soft and spreadable, particularly at the end of the ripening process, which is why it is traditionally presented wrapped in an a spruce wood « belt » to hold its shape. It is normally served cold, spread on bread, but can also be heated.
Cantal (Auvergne)
Produced throughout the region spreading from Aubrac to the Cézallier massif, Cantal is a blue-veined cheese with a base of pasturised or unpasturised cows' milk. Milk from any breed of dairy cow may be used in its production, which is a 33-hour process passing through the steps of pressing, draining, maturation and salting. In order to qualify for the « Cantal » appellation, it must ripen for a minimum of 30 days (after which the result is a « young » Cantal). There are also two other varieties : « entre-deux » Cantal, which is ripened for 90 to 210 days, and « old » Cantal, ripened for a minimum of 240 days.
Photos : Sarmat, B. Piccoli, Nimbus, He2Agency, Lexa Nox, Italiapuglia73, Richard Villalon