15.01
2016 News and events
Once again this year, our ski areas have invested in improving comfort and service quality for the 2016 season. You can expect to see new chair lifts, new ski runs and in particular, new fun areas and areas dedicated to beginners.
New ski lifts to modernise and streamline the lift system
In Aillons-Margeriaz, the resort has installed a new magic carpet for beginners in the resort of Aillon.
In Auron, the new Haute Plane detachable 6-seater chair lift has replaced the 3 previous ski tows to provide better access to the Sauma Longue sector.
In Aussois, the 4-seater Gran Jeu chair lift has been replaced by a new detachable 6-seater chair lift (transportation rate: 2,400 people an hour) and the 2-seater Les Côtes chair lift replaced by a 4-seater chair lift.
In Avoriaz, a detachable six-seater chair lift (3,000 people an hour) has replaced the Les Brochaux 3-seater chair lift.
In Gérardmer, the 3-seater Grant Haut chair lift and ski tow of the same name have been replaced by a detachable 6-seater chair lift.
In La Plagne, the new Montalbert gondola lift has replaced 2 chair lifts, connecting Plagne-Montalbert's snow front to Le Fornelet (1,970 metres); reducing the journey time by at least 24 minutes, dividing it by 5!
In Le Lioran, a 4-seater chair lift replaced the Masseboeuf chair lift, reducing the journey time by 4 minutes.
In La Norma, the Plateau de la Repose has been redesigned, involving the Saint Joseph chair lift replaced by a button lift and the ski tow being moved.
In Orcières, the ski tow was replaced by a 54 metre-long covered magic carpet. The ski kindergarten now has two covered magic carpets.
In Saint Lary, the major new development is the detachable 6-seater Bouleaux chair lift, which has replaced 5 ski lifts. This building work is the first step of plans to modernise the entire destination. The majority of pylons will be cleared from the resort's panoramic views and 4 runs will have their ski tows removed to expand the size of the ski area.
Source: Tourist Office survey
What's new on the ski runs
The resort of Chamrousse has extended its night-time skiing offer by installing lighting at the top of La Croix gondola lift. New runs and access to the slopeside restaurant is planned for nights you'll never forget. You can now ski every Friday evening during the season and on Thursday evenings in the school holidays.
The resort of Châtel has created a new return run from the Portes du Soleil chair lift to Super-Châtel in Vonnes to connect the two, enabling skiers to and continue along Le Linga via the "Gabelou" chair lift.
In Gérardmer, a new green run now provides a second route back to the resort for beginners and families. The "Marmotte" itinerary has been created on the Grand Tourmalet ski area: 11 kilometres of easy, signposted blue runs so that everyone can explore the largest ski area in the French Pyrenees, as well as the Panoramic run: a blue run with views over the Pyrenees providing easy access to the celebrated Col du Tourmalet, a legendary stage of the Tour de France.
Les 2 Alpes has undertaken the most ambitious building work ever to take place on the ski area: a new blue run with 2,000 metres of altitude drop offering a new high-comfort route back to the resort for all abilities, 12 kilometres of non-stop downhill skiing for everyone, providing a safe journey back to the resort.
In Les Menuires, a new blue run has made La Pointe de la Masse (one of the Trois Vallées' most beautiful summits) more accessible to skiers of all abilities.
Méribel is spoiling beginners this winter with new learning areas protected from the path of other skiers, 2 free magic carpets and very easy adjoining runs, as well as a ski tow, helping skiers to make natural progress.
Montgenèvre has carried out building work to reconfigure a section of the snow front, involving the use of 5,000m³ of backfill to level out a new arrival platform.
In Morzine, the existing blue run has been adapted in order to expand the Super Morzine sector.
In Orcières Merlette 1850, a new FIS-approved downhill run has been built and christened "Camille RICOU" in honour of the resort's founder. This permanent speed stadium will now host races and welcome ski clubs.
In Pralognan, ski runs have been redesigned and fun zones improved: boardercross, big air bag and the Opoualand run.
In Sauze, a family Free Ride Zone has been built on the Dôme de l'Alp: a beautiful, safe ski area dotted with larch trees for families to enjoy. Accessible by chair lift.
Saint Sorlin d'Arves has created a number of new runs: "Les Perrons Haut" black run at the top of the Rouet chair lift, "La Curiaz" red run in La Combe des Vallons, a high-altitude snowshoe trail looping from the Col de la Croix de Fer to the foot of the 3 Lacs chair lift, and a cross-country skiing trail at the foot of the Plan du Moulin.
Val Thorens has welcomed three new ski runs. La Chasse red run: located on the Plein Sud sector, creating new circuits to ease the flow of skiers around the ski area. Skiers will also have the pleasure of stopping off along the way for a delicious break at the Chez Pépé Nicolas Alpine chalet and restaurant, now accessible on skis. A blue run has also been built so visitors can discover the hidden valley of Orelle. Designed to be a real 4-kilometre panoramic getaway, the run plunges from the top of the Thorens funitel to an altitude of 3,000 metres, before joining the Plan Bouchet chair lift through the Lory glacial valley. A new Fun Slope has also been created: a playful course dotted with obstacles, it is the first of its kind in France. Val Thorens has also built an XL 900 metre long course with over 50 sensory, physically interactive fun modules including sound. With snow tunnels, bridges, spirals and banked turns, enjoy 3 action-packed minutes aimed at fun-seeking skiers and snowboarders of all ages.
In Valberg, the new Les Fouines run now connects the sectors more easily.
A number of ski areas have also continued to invest in making skiing safer by increasing the amount of area covered by artificial snow. That's notably the case in Alpe d'Huez, Les Angles, Montgenèvre, Morillon, Saint Maurice sur Moselle, Saint Sorlin d'Arves, Sainte Foy Tarentaise, Valloire and Valmeiner.
Doing it all just for the fun of it!
In Arêches-Beaufort, the resort has built three boardercross routes spread across the ski area to provide amazing thrills for a range of ability levels: Kidcross (easy and fun), Woodcross (nature-themed and suitable for families) and the Bovocross (sporty and demanding).
Avoriaz has opened a new smaller halfpipe next to the large one that currently exists (meeting European specifications) for beginners who want to get started in this new Olympic discipline.
Les Carroz d'Arraches has built 3 new zones on the ski area: the "Oasis Cool Zone" with a Boardercross, snowpark, parallel slalom, and video zone with 7 cameras. A safe, signposted "Speed Experience Zone" for learning how to master your speed, and a new fun tobogganing area accessible via a moving magic carpet that replaces 2 ski tows.
In Chamrousse, tobogganers are now able to get their fix of thrills on a seemingly endless downhill run reserved just for them. And you don't need to carry your toboggan up to the top either. This 2.1 kilometre run has 315 metres of altitude drop peppered with banked turns and moguls. As a bonus for mountain bikers, the toboggan run is also used for mountain biking on Fridays between 9am and 1pm!
In Châtel, skiers can now try out the Fantasticable! At the top of the Rochassons chair lift those who take part in this amazing adventure will be relieved of their ski gear and launched onto the winter version of the Fantasticable n°1 run, where they'll fly over the village of Plaine-Dranse at a height of 140 metres! Hurtle along the 1,200-metre cable of this giant zip line at speeds approaching 100 kilometres an hour!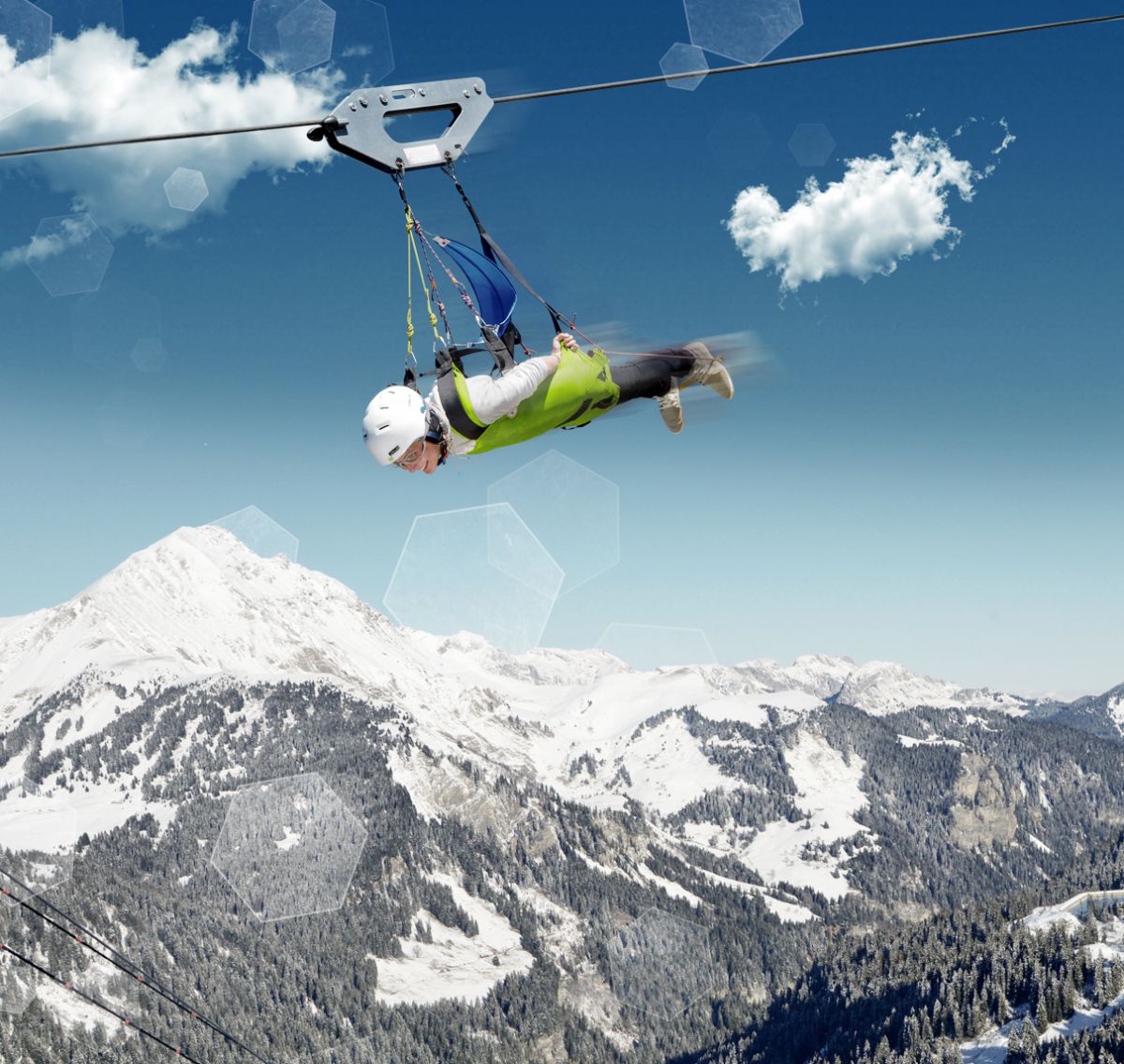 Saint François Longchamp, Combloux and Val d'Allos are opening all-year-round toboggan runs on rails, accessible to thrillseekers in summer and winter alike.
Font-Romeu has created new fun areas. The FUN RUN ZONES introduce families and groups of friends to Jump and Woop; the RUN 66 welcomes thrill-seeking riders to a new run that incorporates street furniture; the SKICROSS ZONE gives 4 skiers the chance to to ski down simultaneously over banked turns: guaranteed thrills for experienced skiers; the MOGUL ZONE is a permanent mogul field, as a reminder of the 2012 European Cup.
La Clusaz has built a beginners' snowpark this winter for more family fun in a safe environment.
La Rosière has opened a new toboggan area and a new fun zune this winter. The fun zone is located in La Rosière forest, accessible via the forest's green run. This themed area is first and foremost a discovery run dotted with entertainment and madcap shacks. Les Eucherts toboggan area is located just above Les Lutins magic carpet, an easily accessible snowfield that enjoys plenty of sunshine, offering a slightly steeper slope than the La Rosière run in the resort centre.
Mont Dore has created a fun run themed around the Gauls this winter (a green run with Gaul-themed competitor route) for children.
Les 2 Alpes has built a new a snowpark right in the resort centre (1,600 metres), to the left of the Lutins run. It includes a few modules to get you started with freestyle before you climb the 2,600 metres up to Les 2 Alpes' freestyle land.
In Les Arcs, the Mille8 area has got even bigger with the addition of two new fun, themed runs. LES CABANES, Mille8 "discovery" run: accessible to everyone and boasting wooden shacks, a viewing point, a giant xylophone…. You'll love the sound effects and lights! LES PINGOUINS: a safe, well-maintained area on the Arc 1800 snow front dedicated to "little ones" that provides children with a peaceful introduction to snow. The mini toboggan run, moving walkway, igloo, penguin mascots and baby snowpark will delight your little darlings!
Les Karellis, a family resort par excellence, has launched two new developments for little ones: a toboggan run for children under the age of 5 in the Forum's indoor courtyard, and a fun area for budding mountaineers. This winter in Les Karellis, climb, scale, spin, slide… have fun, get your body moving and laugh!
Métabief has dreamt up a whole range of fun areas with the Jurakid Park for little ones, an easy park for getting started in freestyle, the bio park in the forest, a snow park for experienced skiers, and an air Bag!
Orcières Merlettes 1850 has created two new fun areas: a Winterparc on the Rocherousse plateau welcomes holidaymakers to slide on individual rubber rings and hurtle down the green to black runs in a snow raft! A snow tow then pulls you back up to the top of the special run aboard a rubber ring. Open to the over 4s. "Opoualand" has also moved: the fun learning slope on the ski area dedicated to 6-12 year olds is now located on the Rocherousse plateau. This run boasts fun attractions such as snow caves, snow catapults and games of skill!
Valmorel has launched its new "PIRATE ADVENTURES" area this winter: a new fun zone on the slopes featuring a huge snow and foam castle. Young pirates are welcomed by a buccaneer captain, who will send them off on a treasure hunt…beginners snowpark, picnic area, accessible to skiers and pedestrians.
Villard de Lans has opened the first indoor freestyle hall this winter! Discover freestyle in total safety with a trampoline and jumps, training sessions and tricks.
Crédits photos : ©JFVuarand_Châtel Tourisme ; ®ADS_Propagan