06.06
2022 Family
There's no better way to introduce little ones to hiking than by playing the 'games and discovery' card. Resorts have created easy, interesting routes for children, so kids will happily go for a walk without even realising they're doing it!
Hiking has no age limits! If you set off to the mountains this summer, you'll see that as long as you choose the right itineraries, it's possible to share the joys of walking with the whole family. Here's a selection of thirteen trails that will turn your little ones into proper little hikers!
Walk and play at the same time
Have fun with the family thanks to five different treasure hunts created by Le Sauze Tourist Office. These adventures will take you on different routes, and include a selection of charades, riddles and games along the way…
The smugglers' trail – Praz sur Arly
Based on the history of the region, with a comic book as your info guide, this hike lets children set off on a mountain treasure hunt. Fun panels let them uncover a secret code and solve a riddle at the top of the Crêt du Midi chair lift. With two hours of family walking at an altitude of 1,700 metres, you too can uncover Fanfouétomas' treasure!
The mystery den – Les Angles
Discover the ski area's wetlands. Why do these zones exist? Why are they so important? Set off to explore these inhabited areas through a fun, educational hike. Accessible to the over 4s, free of charge, duration: 2 hours.
On the Hermine trail - Peisey Vallandry
Armed with a map and a list of places to search for, this trail covers a section of the Rosuel plateau, at the entrance to the Vanoise National Park and at the foot of a high-altitude glacial cirque that doubles as a genuine playground! Inspired by orienteering, the trail is designed to be hiked independently, individually or as a family, in the form of a game. With the help of a detailed map, walkers set off to discover local natural and cultural riches: wildlife, plant life and the history of the site.
On the trail of mountain animals
The Tétras trail was specially created and adapted to children and families, providing them with a fun approach to discovering the Val d'Escreins. It's a nature reserve against the backdrop of a valley that opens onto the ruins of an historical village with a restored chapel. Panels dotted along the route explain the life of yesteryear and the valley's riches (duration 1hr 15mins).
Go marmot watching - La Norma
At the entrance to the Vanoise National Park, the Orgère discovery trail gives you the chance to see marmots and ibexes and offers uninterrupted views over the valley and Orgère forest, which is one of the oldest in France (700 years old). This mountain trail is equipped with tools and equipment specially adapted for those with auditory, motor or visual disabilities, and is also suitable for all-terrain pushchairs, and senior citizens.
At La Molière every summer, hundreds of heifers graze at an altitude of 1,632 metres. Between forest and crests, this Alpine pasture is a wonderful forest playground with superb panoramic views over the Alps. Picnics welcome.
By the lakeside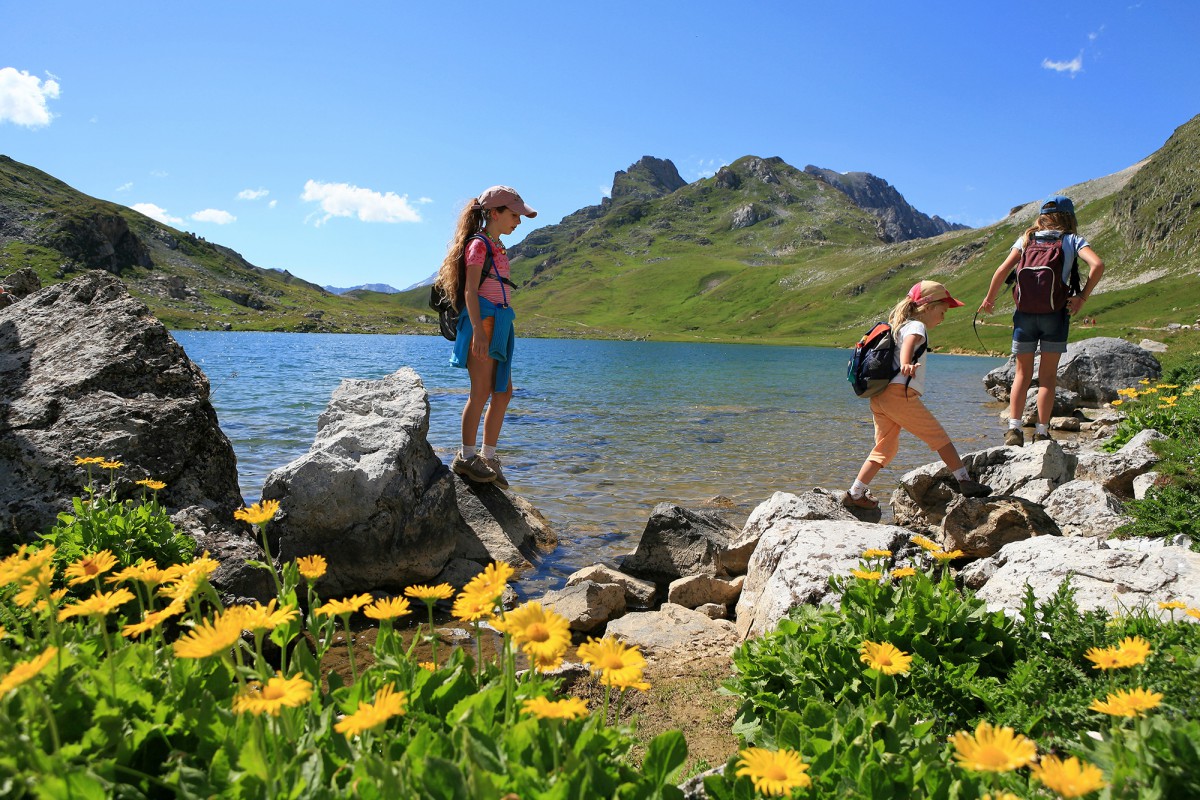 Circular lake walk - L'Alpe d'Huez
The lake tour (Besson, Noir, Faucille and Carrelet Lakes) is a circular family hike perfect for beginners and families with young children.
Les petits lacs - Saint Sorlin d'Arves
The Guichard, Potron and Laitelet Lakes are all located in an incredible landscape and are perfect for a short walk, a picnic, or a day's fishing. Very easy to access via a 15-minute walk.
Hikes with a view
A breath of fresh air – Les Gets
The Balcons du Mont Chery trail partly overlooks the idyllic village of Les Gets, which enjoys majestic views over the Mont Blanc mountain range. Set off from the top of the Mont Chéry gondola lift and follow the tree-lined footpath that connects the village to Mont Caly's Alpine pastures, with its typically Savoyard chalets. This itinerary doesn't present any real difficulties and has a short vertical climb, making it perfect for a family walk.
The Homme de Pierre - Risoul (Hautes-Alpes)
Providing beautiful views over the Écrins mountains, as well as Serre-Ponçon Lake and other summits in the Forêt Blanche ski area, the Homme de Pierre viewing point is accessible via an easy walk to enjoy with the family. A great warm-up before tackling other hikes! We recommend that you take a camera to record some unforgettable memories! Bonus: the numerous picnic areas along the way, and the slopeside restaurant at the summit.
Artistic hikes
Horizons Sancy – Le Mont Dore
A real open-air art gallery, HORIZONS is free to explore with the aid of a map and offers walks that take you right up close to the artworks. Pop-up, contemporary and life-sized installations enhance Sancy's natural volcanic landscape.
From the 16th of June to the 23rd of September 2018
Sketch the local heritage – Vars
Every Thursday, watercolourist Sophie Doat-Sallès will take you out to sketch in and around Vars' villages. Enjoy a different experience that combines walking and drawing, for beginners upwards. Thanks to Sophie's guidance and drawing experience, you'll be able to discover or get a new perspective on the historic riches of the hamlets of St Marcellin, Ste Marie and Ste Catherine. Free of charge activity open to families (children over the age of 10 accompanied by an adult).
A-Pernet (Maurienne Tourisme) / A.Cheutin (France Montagnes) / Istock photos / Fotolia