12.07
2016 Discovery
Mountains make up almost 30% of France, the world's premiere tourist destination. The 'hexagon' owes a great deal of this success to its landscapes, notably those demarcating its high-altitude regions. Fixed in collective memory, they have long attracted visitors seeking the beauty of Mother Nature.
Glaciers and eternal snow
La Mer de Glace, the longest glacier in France (7 kilometres), the Tête-Rousse glacier, les Dômes de la Vanoise, the Blanc glacier and even the Ossue and Mont-Perdu glaciers in the Pyrenees are just a few of France's best-known snow and ice giants. In photos, on canvas or in person, their striking white splendour is instantly captivating. The fascination they command is nothing new! It was from the 18th century onwards that the way people saw the mountains, which used to be regarded with such dread, began to change. That's when scientists, painters, poets and writers rushed to their bases and the vibrant shifting colours of their slopes. Victor Hugo, Lamartine and even Alexandre Dumas wrote magnificent pages on these titans, which they saw as indestructible. Global warming however may get the better of those positioned below 3,500 metres between now and 2100, which is all the more reason to immortalise the spectacle provided by the world's largest freshwater reservoirs, and guardians of our climate.
La chaîne des Puys
Cones, domes and maars, the 80 summits making up La Chaîne des Puys may form a line but no two are the same! Some are conical, some are rounded and some are even hollow, creating an open-air encyclopaedia on which to reflect. Such a dense collection of volcanoes in a single forty-kilometre stretch is a rarity throughout the world, which is what gives the Auvergne Volcanic Regional Nature Park its unique landscape and rich natural heritage. This can be admired in its entirety from its highest point, le Puy de Dôme (1,465 metres). Listed as one of the 'Grand Sites de France' in 2008, the Massif Central viewing point, Le Panoramique des Dômes, is accessible aboard an electric rack and pinion train. A spiralling climb up the sides of a volcano lets you gently discover the dormant mountains, born from the fury of the bowels of the Earth. The cattle and thousands of sheep that adore the Puys' grassy slopes are key parts of this living, breathing painting.
Jura lakes and forests
There are none of the Alps and Pyrenees' serrated summits or eternal snows here, nor any rounded domes like those of the neighbouring Vosges. Shaped like a croissant straddling France and Switzerland, the Jura region is undulating and dramatic! Plateaux, valleys, cracks, chasms, steepheads and cliff ledges sculpt this multi-facetted region: dark green pine forests and leafy forests of all varieties dotted with 70 lakes and a multitude of ponds, gorges with playful mountain streams, grassy summits bursting forth with speciality Alpine plants: orchids, martagon lilies and yellow gentians. Its highest points include le Crêt de la Neige (1,720 metres) and Le Reculet (1,718 metres) in the Haut-Jura nature reserve in the South, as well as the Mont d'Or (1,463 metres) in Le Doubs in the North-East, easy-to-access promontories prized by landscape enthusiasts. They offer panoramic views over the Jura landscape, le Pays de Gex, Geneva, Lake Léman, the Alps and of course, the omnipresent Mont Blanc.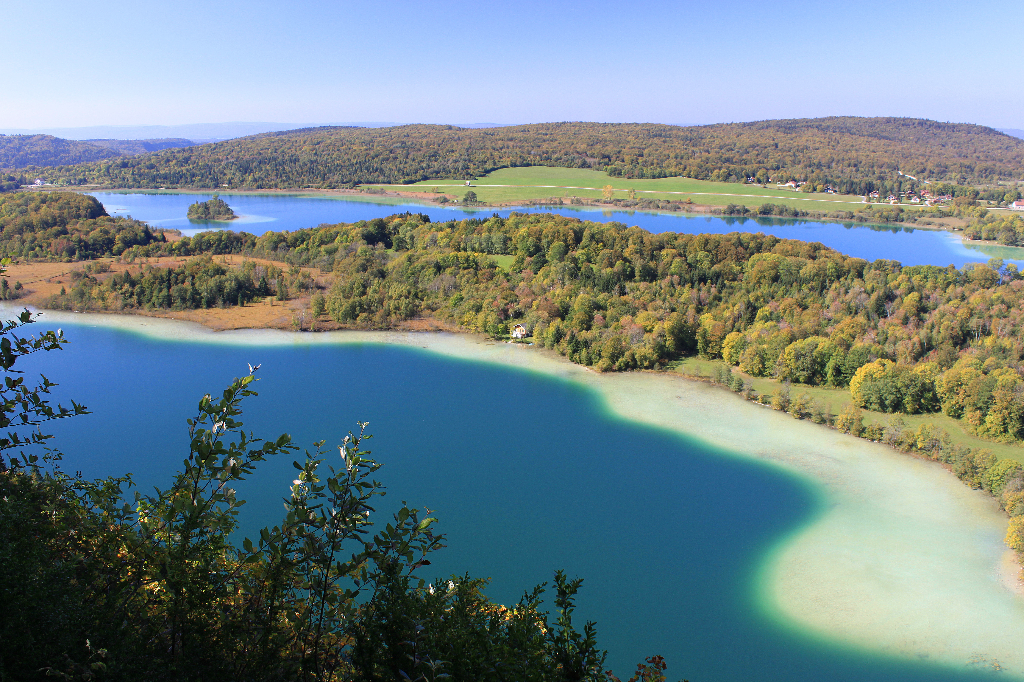 Les Ballons des Vosges
With its famous rounded summits, the mid-mountain area known as Les Ballons des Vosges alternates natural, richly biodiverse sites with spectacular landscapes: Les Hautes-Chaumes, windswept lands, peatlands, beech and pine forests, hillside forests, lakes and ponds. It's a life-sized geography lesson! When they get up high, hiker-spectators can take in the décor in complete tranquillity. Among the best-loved viewing points, le Grand Ballon, the highest point in the Vosges massif (1,424 metres), overlooks the Plaine d'Alsace and, when the weather's clear, provides a glimpse of the Swiss Alps. Le Petit Ballon (1,272 metres) is another viewing point prized for observing the landscape, as it reveals a unique view along the line of crests: Honeck, Klintzkopg, Rainkopf, Gazon du Faing, Ballon d'Alsace, or once again Grand Ballon. Perched at an altitude of 1,200 metres is the famous Crêtes tourist route, interspersed with farm-inns where visitors can enjoy sampling Munster cheese and "brimbelle" (blueberry) tart, and connecting the major viewing points of this greeny-blue mountain chain so praised by Jules Ferry.
Les Préalpes from North to South
Les Préalpes, the collection of mid-altitude massifs running along the edge of the Grandes Alpes, form a complete landscape in their own right when you draw a panorama of the French mountain ranges. From North to South, le Chablais, les Bornes, les Bauges, la Chartreuse, le Vercors, le Dévoluy, le Diois and even l'Authion, in the Mercantour national park, form a subalpine outer arc that geographers call Les Préalpes. So many mountain ranges, so many different landscapes to gaze upon. Among their legendary summits is Mont Aiguille (2,086 metres) in Le Vercors, one of the 7 Wonders of the Dauphiné region. Its remarkable beauty inspired Charles 8th to climb it in 1492, an ascension that was considered as the founding act of mountaineering. Another legendary Préalpes rocky summit is La Pointe Percée (2,750 metres), the highest point in the Aravis mountain range, and more accessible by eye than on foot! Finally, Mont Ventoux, the "giant of Provence" (1,912 metres), a holy grail for cyclists, is another of the Préalpes' major peaks on the southern side. From Les Baronnies' harsh, windswept summit, a kingdom of stone, you can make out the rice-fields of Camargue and Alpine glaciers just as well as the Massif Central.